Ameriabank's SME loan portfolio amounted to AMD 163.6 billion as of December 31, 2022, representing a double increase over the last five years. Furthermore, the number of Ameriabank's SME clients grew significantly, increasing six-fold compared to the 2018 figures. During the same period, the number of loans issued to SMEs by Ameriabank grew by 5.5 times.
Since 2018, Ameriabank has been offering a convenient business support environment through the business.ameriabank.am platform. This platform serves as a one-stop-shop for clients, enabling them to open an account, receive a card and access online/mobile banking, apply for loans up to 10 million AMD, and avail of other services and benefits offered by the bank, without the need to visit a physical branch. Recent data have shown that during 2022, seven out of ten Ameriabank clients received their loans online through the business.ameriabank.am platform.
Ameriabank's investments in SME sector were summarized within the scope of the "Triple Best" campaign. Varuzhan Muradyan, the founder of Van Ardi winery, spoke about the importance of small and mid-size wine companies, sound business partnership and cooperation with Ameriabank.
We would like to remind that in 2022 Ameriabank was named the Best Bank of the year in Armenia by three leading international magazines – The Banker, Euromoney, and Global Finance. On this occasion, "Triple Best" campaign was launched under the slogan "The Best Opportunity is Created by People". It is dedicated to all people who stood behind the Bank's achievements during the recent years, from clients and partners to employees of the Bank.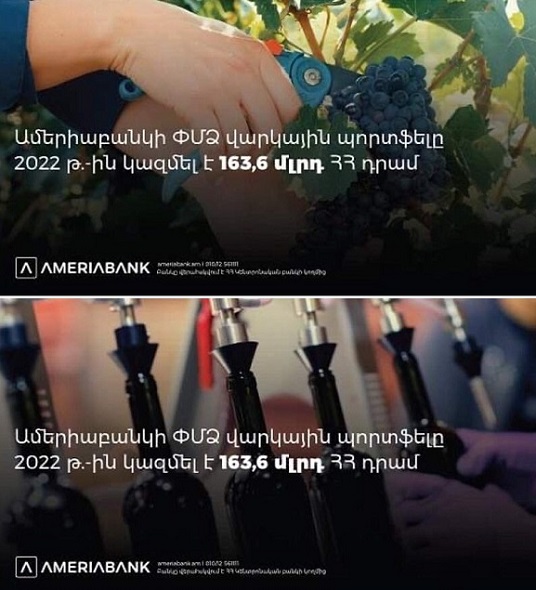 Ameriabank is a leading financial and technology company in Armenia, a major contributor to the Armenian economy, with assets exceeding AMD 1 trillion. In the course of digital transformation, it has launched a number of innovative solutions and platforms going beyond banking-only needs of its diverse customer base, thus creating a dynamically evolving financial technology space. Ameria was the first in Armenia to create ecosystems for both businesses and individuals, which give one-window access to a range of banking and non-banking services, among them – Estate.ameriabank.am, Automarket.ameriabank.am, Sme.ameriabank.am. As a truly customer-centric company, Ameria aims to be a trusted and secure financial technology space with seamless solutions to improve the quality of life.