In the past two years, Ameriabank has loaned over AMD 14 billion to the renewable energy sector. During this time, 123 power plants that use renewable energy sources and meet the green loan criteria have received financing. These projects generate an estimated 300 million kW/h of electricity annually, leading to a reduction of 120,000 tons of carbon dioxide emissions.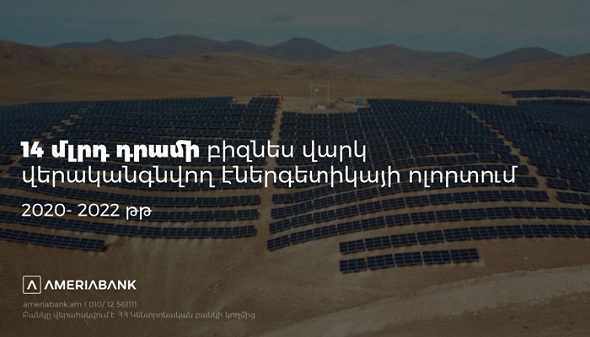 The investments made by the Bank in the renewable energy sector are summarized within the framework of "Triple Best" campaign, with Hayk Shekyan, Founder and CEO of Shtigen Group, corporate client of the Bank, telling about the importance of solar power and its strategic significance for the country.
We would like to remind that in 2022, Ameriabank was named the Best Bank of the Year in Armenia by The Banker, Euromoney, and Global Finance. To celebrate this recognition, the "Triple Best" campaign was launched with the slogan "The Best Opportunity is created by People". This campaign honors all those who have contributed to the Bank's achievements over the years, including its clients, partners, and employees.
Ameriabank CJSC
Ameriabank is a leading financial and technological institution and a major contributor to the Armenian economy, with assets exceeding AMD 1 trillion. Ameriabank provides an innovative and digital platform, i.e. an ecosystem combining both financial and non-financial services at one place. The ecosystem platform offers convenience and enables to receive quick financing in all major areas, powering the whole customer journey from account opening to getting a card and applying for credit in the online environment of the Ameria ecosystem.
Ameriabank has adopted a customer-focused approach and is committed to doing business responsibly to ensure service quality and modern banking experience in an evolving and secure digital environment.
The Bank is supervised by the Central Bank of Armenia.