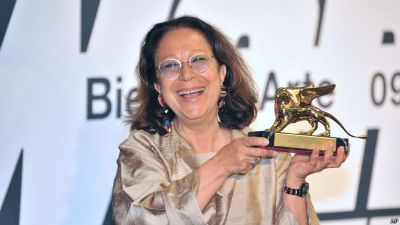 Armenia Wins 56th Venice Biennale Golden Lion Award
The Venice Biennale is a major international art exhibition that takes place once every two years in Venice. It was founded in 1895.
The Jury of the 56th International Art Exhibition of La Biennale Di Venezia awarded Armenia with the Golden Lion Award for Best National Participation.
The Golden Lion for Best National Participation goes to the Republic of Armenia
Armenity / Haiyutioun. Contemporary artists from the Armenian Diaspora
Commissioner: Ministry of Culture of the Republic of Armenia. Deputy Commissioner: Art for the World Europa, Mekhitarist Congregation of San Lazzaro Island, Embassy of the Republic of Armenia in Italy, Vartan Karapetian. Curator: Adelina Cüberyan von Fürstenberg. Venue: Monastery and Island of San Lazzaro degli Armeni