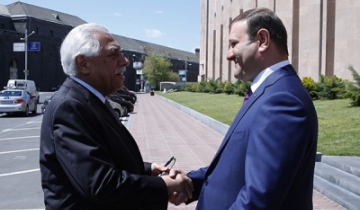 Yerevan Mayor Taron Margaryan had a meeting with the Mayor of Amman-the capital of the Hashemite Kingdom of Jordan Akel Biltaji and with the members of the delegation headed by him. The President of the Armenian General Benevolent Union Perch Sedrakyan was present at the meeting too. Greeting the guests the Mayor first of all expressed gratitude for visiting Yerevan and paying a tribute to the memory of the innocent victims of the Armenian Genocide together with the Armenian people on April 24.
Taron Margaryan noted that due to this visit of the Mayor of Amman the cooperation and partnership established between the two capitals would be strengthened and expanded. "Today the relationship between Armenia and Jordan are on a high level and it is not just a business partnership but a friendly one as well. This fact is proved by the common history of the Arab world and Armenia. Taking into account the example of our countries I am confident that the mutual cooperation and friendship between the two capitals will also develop", stressed Taron Margaryan. The Mayor of Amman Akel Biltaji expressing gratitude for warm welcome in his turn stressed the importance of willingness of the Mayor of Yerevan to expand the cooperation between the two capitals and stressed that this is another good opportunity to discuss the process of cooperation programs and to outline further activities.

"Today there is really big potential to develop an effective cooperation between the two capitals and I should stress that we are also interested and willing to expand our partnership and friendship with Yerevan. Accompanied by you, Mister Mayor, I had the opportunity to walk about Yerevan and I should admit that I have seen a well-arranged and comfortable city. And from this point of view it's important for us to develop partnership and have experience exchange in some spheres", said the Mayor of Amman.
During the meeting Yerevan Mayor Taron Margaryan stressing the importance to the agreement on becoming sister cities signed between Yerevan and Amman in the Hashemite Kingdom of Jordan in the presence of the leaders of the two countries, pointed out that the agreement will make it possible to implement mutually beneficial cooperation for the welfare of the residents of the two capitals.