Ameriabank concludes its Triple Best campaign, which was launched to celebrate the Bank's recognition as the Best Bank of Armenia for 2022 by leading international publications such as The Banker, Global Finance, and Euromoney.
Through this campaign, Ameriabank highlights the numerous digital services, joint projects with partners, and the positive impact that these initiatives have had on various sectors of the Armenian economy. By showcasing these achievements, the Bank aims to improve the banking experience of its clients and improve the quality of life.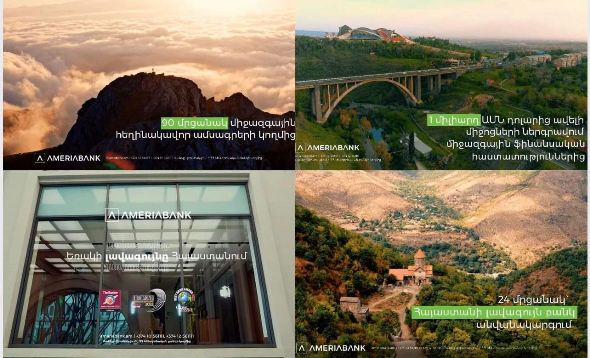 The Triple Best campaign concludes with a video featuring Artak Hanesyan, the CEO of Ameriabank, expressing sincere gratitude to partners, clients, and the entire Ameria team. "Our shared values, vision, and mission will continue to guide our actions, as we remain committed to supporting the growth and development of Armenia and its people," notes Artak Hanesyan.
Check out the video to learn more.
To note, the reputable magazine Global Finance named Ameriabank the Best Bank in Armenia in 2023 as well.
Ameriabank CJSC
Ameriabank is a leading financial and technology company in Armenia, a major contributor to the Armenian economy, with assets exceeding AMD 1 trillion. In the course of digital transformation, it has launched a number of innovative solutions and platforms going beyond banking-only needs of its diverse customer base, thus creating a dynamically evolving financial technology space.
Ameria was the first in Armenia to create ecosystems for both businesses and individuals, which give one-window access to a range of banking and non-banking services, among them - Estate.ameriabank.am, Automarket.ameriabank.am, Business.ameriabank.am.
As a truly customer-centric company, Ameria aims to be a trusted and secure financial technology space with seamless solutions to improve the quality of life.