Independent: FK Qarabag's Europa League group stage match against F91 Dudelange was suspended on Thursday night after a drone carrying the flag of the disputed region of Nagorno-Karabakh was flown over the stadium.
Azerbaijani side Qarabag were leading their Luxembourgish opponents 2-0 when a drone appeared over Dudelange's Stade Jos Nosbaum.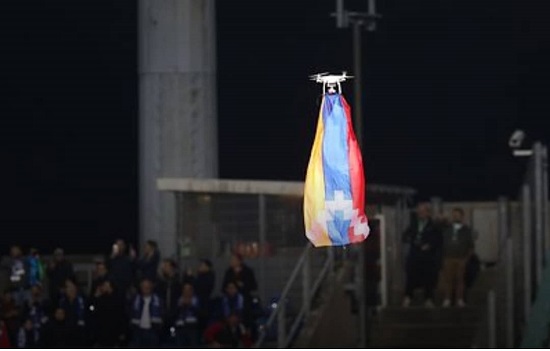 The drone, which was carrying the red, blue and gold flag, was then flown over the halfway line where it hovered for several seconds, over the heads of players from both teams.
Qarabag's Azerbaijani midfielder Gara Garayev then picked up the ball and attempted to kick it into the airborne drone, before the match was suspended.
Uefa said the match was postponed because of a "security issue".
There are currently no diplomatic relations between Azerbaijan and Armenia owing to the ongoing Nagorno-Karabakh conflict.
The region, along with some neighbouring territory, has been under the control of Armenian soldiers and local ethnic Armenian forces since a 1994 ceasefire ended a bloody six-year war. There have been occasional outbreaks of violence since.