In a conversation with Asekose.am, the producer of PROJECT LA, Suren Sahakyan, spoke about the creation of PROJECT LA, its activities, concerts, giving new life to the works of Armenian poets through song, and not only that.
"In 2015 Levon Arevshatyan created PROJECT LA and we started working together from the very beginning. Levon wrote the music; I did the production. We tried to gather a team and decided to do something different that would be educational and at the same time pleasant and fun and, I think we did not wait long to see the results. When PROJECT LA was created,
people didn`t understand the meaning of "LA", some people thought it had something to do with Los Angeles, but later that acronym was explained, they are the initials of the founder Levon Arevshatyan`s name and surname".


Our concert halls are always packed, and we always get standing ovations.

"Over the years, we have collaborated with numerous musicians and singers, but our most significant and enduring partnership has been with Gor Sujyan. While we work with a large team, only a few are visible in the shot. PROJECT LA founder and composer Levon Arevshatyan, and I always stay behind the scenes as we prefer to work beyond the cameras.
The rest of our team members, I believe, are familiar to many through their presence in both concerts and videos."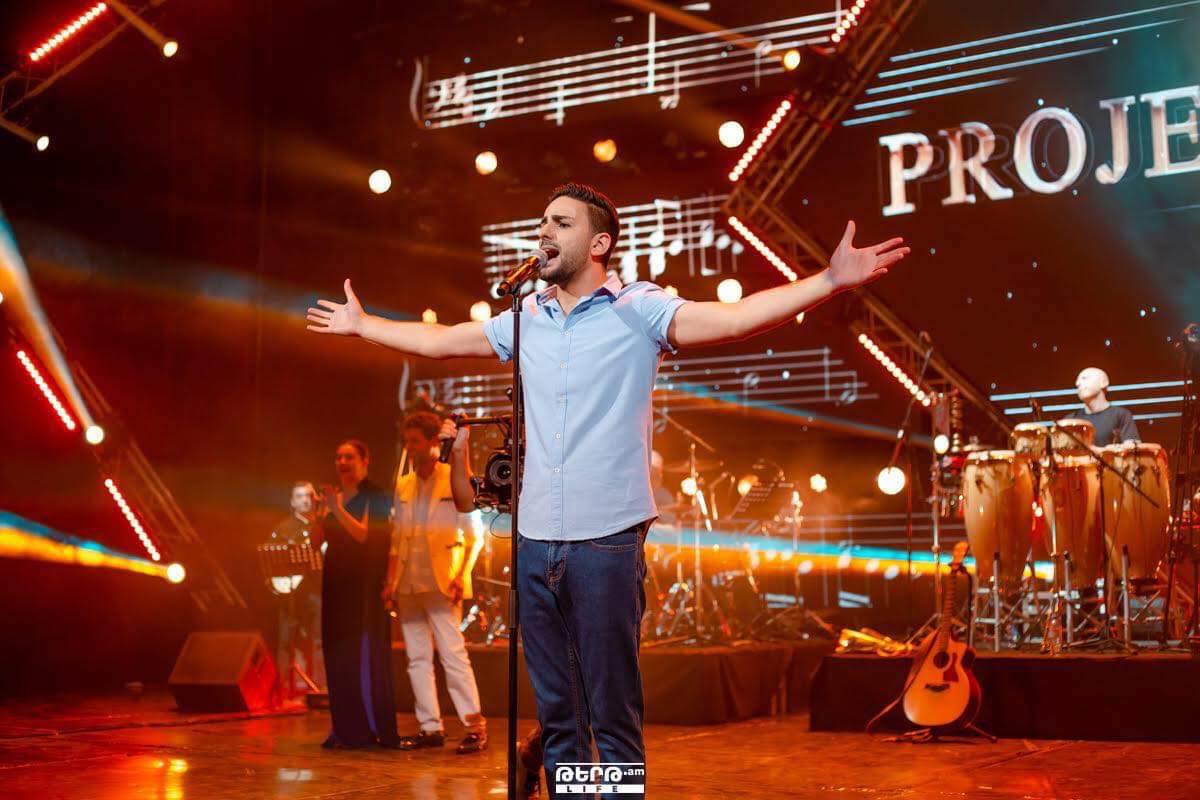 Currently, our team consists of the following members:
• Gor Sujyan, our soloist, has been an integral part of the project since its inception.
• Khachik Sahakyan serves as our musical director, arranger, and keyboard player.
• Tehmine Arabachyan and Sona Shiroyan, our backing vocalists, are well-known to the Armenian audience and play a crucial role in our team.
• Arman Avetisyan, our sound director, contributes his professional expertise to our work.

It`s important to emphasize that before our appearances in video clips, concerts, or any public releases, a tremendous amount of work is invested. This includes extensive discussions and tangible actions. I am delighted to see that our audience recognizes and values our efforts. The presence of full halls and the applause we receive are both incredibly motivating and binding for us.
Fortunately, we achieved great success.
Initially, we presented the works of renowned foreign poets alongside our songs. (Edgar Allan Poe, William Henley, Emily Dickinson, Lord Byron, Rudyard Kipling). However, taking a daring leap, we decided to explore Vahan Teryan`s poetry. To our delight, our endeavor proved to be immensely successful. It became evident that Teryan` s poetry resonated with a wide range of individuals, irrespective of age. This realization led us to a firm decision—to breathe new life into the works of Armenian poets through our songs and endeavor to popularize them in various realms. Additionally, we have plans to delve into the works of Hovhannes Shiraz in the near future.We have an upcoming concert in Gyumri, and the anticipation surrounding it has been incredibly thrilling for us. We`re overjoyed to see that many people in the second city of Armenia are eagerly awaiting our performance. It may sound boastful, but we are humbled to announce that all our concert tickets have been completely sold out. This overwhelming response serves as the ultimate validation for us as creators. It brings us immense excitement, as our efforts are directed towards an audience that fuels our inspiration and provides us with fresh opportunities to create. We are sincerely grateful that our hard work is being recognized and appreciated.


One of the greatest thrills we experience is knowing that our songs are reaching audiences abroad, notjust limited to Armenians.
The comments we receive make it evident that our music is being listened to by foreigners who may not understand Armenian, yet they are captivated by our melodies and develop a deep affection for them. When embarking on a new endeavor, one often envisions their position five or ten years down the line. As the project` s producer, I hold a dream close to my heart: for our songs to be cherished not only by Armenian music enthusiasts but also by listeners worldwide. I envision a foreigner being able to listen to our music and comprehend its essence, even if through their own interpretation. Witnessing something Armenian outside our homeland brings us immense joy and uplifts our spirits. It is my aspiration that our songs, our culture, and our poets gain recognition, even if it is just a small fraction, in other countries. I must also mention that we have already achieved this result with our last two works in Russia, which brings us great pleasure and serves as a source of encouragement.

Author: Arsen Matevosyan